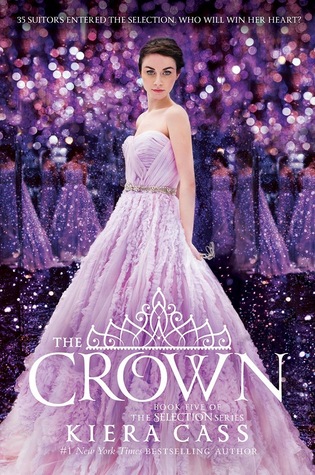 "Maybe it's not the first kisses that are supposed to be special. Maybe it's the last ones." — Kiera Cass, The Crown (The Selection, #5)
---
Rating:
 (Good read)
What is it about: When Eadlyn became the first princess of Illéa to hold her own Selection, she didn't think she would fall in love with any of her thirty-five suitors. She spent the first few weeks of the competition counting down the days until she could send them all home. But as events at the palace force Eadlyn even further into the spotlight, she realizes that she might not be content remaining alone.
Eadlyn still isn't sure she'll find the fairytale ending her parents did twenty years ago. But sometimes the heart has a way of surprising you…and soon Eadlyn must make a choice that feels more impossible—and more important—than she ever imagined.
What I Love: The unpredictable ending. And the annoying Eadlyn has matured now. 😉
This is indeed better than The Heir.
What I Don't Love Much: It is still a bit weak for me compared withthe 3 first books of the series which I read for a night only. Yes, three books in one night , that'show great they are.
Wise Words: "This is a dandelion, " I told him. He shrugged. "I know. Some see a weed; some see a flower. Perspective."
"You have to embrace the idea of imperfection, even if the thing that is most perfect for you."
—
©2016 Rosemawrites@A Reading Writer. All Rights Reserved.