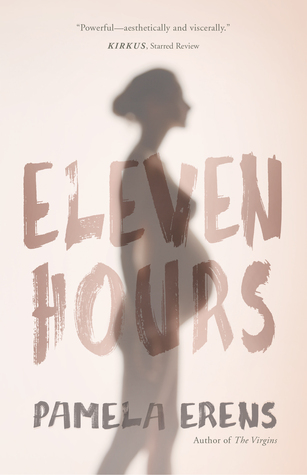 "The external world disappears; all she hears is her own sound; she is a cave filled with a great echoing voice. When she is done she closes her eyes for a moment, returning to herself."
---
Rating:
 (Good read, definitely!)
What is it about: Eleven Hours is the story of two soon-to-be mothers who, in the midst of a difficult labor, are forced to reckon with their pasts and re-create their futures. Lore must disentangle herself from a love triangle; Franckline must move beyond past traumas to accept the life that's waiting for her. Pamela Erens moves seamlessly between their begrudging friendship and the memories evoked by so intense an experience. At turns urgent and lyrical, Erens's novel is a visceral portrait of childbirth, and a vivid rendering of the way we approach motherhood—with fear and joy, anguish and awe.  
What I Love: Such as short read it is extremely powerful in theme and technique. The lines are so vivid that it does felt like a graphic novel.
What I Don't Love Much: Nothing.
Wise Words: "if you carried yourself as if you had business, as if your presence somewhere was legitimate, people didn't notice if you were in the wrong place or doing the wrong thing."
—
©2016 Rosemawrites@A Reading Writer. All Rights Reserved.