(Note: This tag is stolen from my dearie Jade. I am guilty beyond reasonable doubt; I am willing to pay the price of this crime. ^___^ )
It's a Monday morning and my work email is (surprisingly) quiet and empty. Perhaps like a little street in a province at 12:30 AM. So I decided to tag myself on The Entertainer Book Tag which I enjoyed reading in my dearie's blog! (If you want eloquent and emotive poetry, funny and heartfelt and sometimes grim fan fiction and fiction, you better follow her! Come on! Do it noooow! 😀 )
It has been forever since I wrote for a tag and about books, which is a pity! So here I am! Answering these five bookish questions! Let's goooo!
1.) Your favorite form of reading (ebook, audiobook, etc.)?
I'm definitely a librocubicularist. I prefer my bed soft, my coffee hot, and my book printed! (Although majority of my read books are via ebook because I got no book budget before. Please forgive me, books. -_- )
2.) If you could trade places with any other MC in their fictional world facing the same problems as them, who would you trade places with?
(Another confession: I googled MC because, seriously, what is MC? I feel so old. HAHA. For those who are so uninformed like me, it means Main Character. *facepalm* )
I think I would choose to be Annie of The Next Person You Meet in Heaven by Mitch Albom . I have yet to read this book (courtesy of my dearie Jade!!! ❤ ) but I know Annie is the little child Eddie saved in The Five People You Meet in Heaven .
I am excited to know what happened to her; I am sure she will be someone I can relate with because Mitch has that talent–creating characters that will resound to me. ❤
3.) Favorite Movie?
Geez. I am not a movie person but I really love Anne Hathaway's Princess Diaries!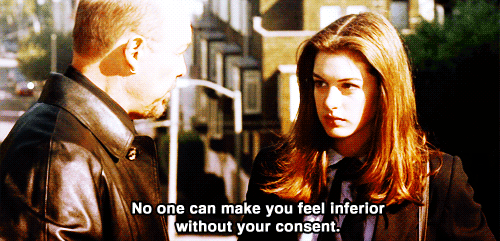 I can't remember today if this preference has been updated. So please, don't judge! 😁
4.) What do you wish you could see more of in books?
I want to see more realistic, odd but inspiring and touching characters. Like Alice of Still Alice by Lisa Genova and Ove of A Man Called Ove by Fredrik Backman. 🙂 These books are truthful, funny, and inspiring without bending with common novel cliches. 🙂
5.) Favorite first line from a book?
"When I was three and Bailey four, we had arrived in the musty little town, wearing tags on our wrists which instructed – 'To Whom It May Concern' – that we were Marguerite and Bailey Johnson Jr., from Long Beach, California, en route to Stamps, Arkansas, c/o Mrs. Annie Henderson." – Maya Angelou, I Know Why the Caged Bird Sings

That's it, friends and poets! You can (also) steal this tag with my consent! 😀 Cheers!
—
©2018 Rosemawrites@A Reading Writer. All Rights Reserved.
Photo via Unsplash, Google, Goodreads