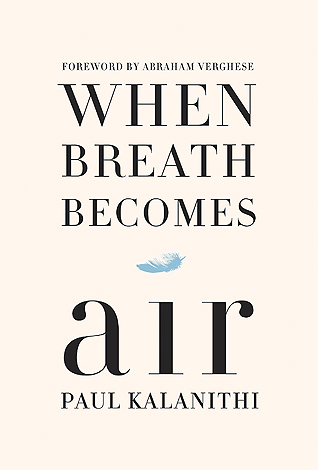 What is it about: At the age of thirty-six, on the verge of completing a decade's worth of training as a neurosurgeon, Paul Kalanithi was diagnosed with stage IV lung cancer. One day he was a doctor treating the dying, and the next he was a patient struggling to live. And just like that, the future he and his wife had imagined evaporated. When Breath Becomes Air chronicles Kalanithi's transformation from a naïve medical student "possessed," as he wrote, "by the question of what, given that all organisms die, makes a virtuous and meaningful life" into a neurosurgeon at Stanford working in the brain, the most critical place for human identity, and finally into a patient and new father confronting his own mortality. 
What makes life worth living in the face of death? What do you do when the future, no longer a ladder toward your goals in life, flattens out into a perpetual present? What does it mean to have a child, to nurture a new life as another fades away? These are some of the questions Kalanithi wrestles with in this profoundly moving, exquisitely observed memoir. 
Paul Kalanithi died in March 2015, while working on this book, yet his words live on as a guide and a gift to us all. "I began to realize that coming face to face with my own mortality, in a sense, had changed nothing and everything," he wrote. "Seven words from Samuel Beckett began to repeat in my head: 'I can't go on. I'll go on.'" When Breath Becomes Air is an unforgettable, life-affirming reflection on the challenge of facing death and on the relationship between doctor and patient, from a brilliant writer who became both.
What I Love: Die with dignity.
It's the clarion call of Paul Kalanithi's words carried in his posthumously published book, When Breath Becomes Air.
I ended up sobbing, with eyes swollen but it is a worth it less-than 200-page journey.
Travelling inside the mind and heart and soul of a dying doctor, who had always searched for life's meaning is enlightening and moving.
Reading about death has always woke up the mortal in me. This is maybe why I am so fond of Mitch Albom's books. Books about dying breathe life back to my purpose. My life's meaning.
Why am I here?
What am I doing?
What makes life worth living?
What I Don't Love Much: While the ending made me cry, it's moving. So I have nothing to not like about this book.
Wise Words:
"I can't go on. I'll go on." 
"You can't ever reach perfection, but you can believe in an asymptote toward which you are ceaselessly striving." 
"Life wasn't about avoiding suffering." 
"Human knowledge is never contained in one person. It grows from the relationships we create between each other and the world, and still it is never complete." 
"The main message of Jesus, I believed, is that mercy trumps justice every time."
—
©2018 Rosemawrites@A Reading Writer. All Rights Reserved.