"All grown-ups were once children… but only few of them remember it." ― Antoine de Saint-Exupéry, The Little Prince
---
I have read seven books last April and the first four are posted here. As promised, here are the three more good reads I had last month!
25th –A book at least 100 Years Older Than You  – The Little Prince by Antoine de Saint-Exupéry
Rating: 
 (GREAT READ!)
What is it about: With a timeless charm it tells the story of a little boy who leaves the safety of his own tiny planet to travel the universe, learning the vagaries of adult behaviour through a series of extraordinary encounters. His personal odyssey culminates in a voyage to Earth and further adventures.
What I Love: It is simple, succinct yet it can impact your views in life. Now I know why it's one of the best classics.
What I Don't Love Much: Nothing!
Wise Words: 
"You see, one loves the sunset when one is so sad."

"What makes the desert beautiful,' said the little prince, 'is that somewhere it hides a well…"
–
26th – A romance set in the future – Every Last Word by Tamara Ireland Stone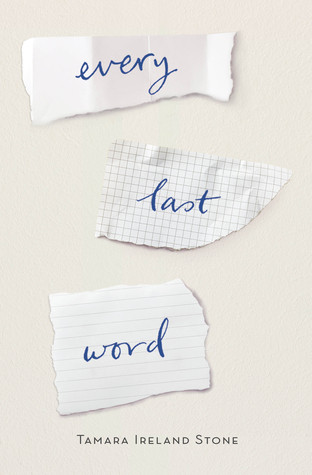 Rating: 
 (GREAT READ!)
What is it about: Samantha McAllister looks just like the rest of the popular girls in her junior class. But hidden beneath the straightened hair and expertly applied makeup is a secret that her friends would never understand: Sam has Purely-Obsessional OCD and is consumed by a stream of dark thoughts and worries that she can't turn off.
Second-guessing every move, thought, and word makes daily life a struggle, and it doesn't help that her lifelong friends will turn toxic at the first sign of a wrong outfit, wrong lunch, or wrong crush. Yet Sam knows she'd be truly crazy to leave the protection of the most popular girls in school. So when Sam meets Caroline, she has to keep her new friend with a refreshing sense of humor and no style a secret, right up there with Sam's weekly visits to her psychiatrist.
Caroline introduces Sam to Poet's Corner, a hidden room and a tight-knit group of misfits who have been ignored by the school at large. Sam is drawn to them immediately, especially a guitar-playing guy with a talent for verse, and starts to discover a whole new side of herself. Slowly, she begins to feel more "normal" than she ever has as part of the popular crowd . . . until she finds a new reason to question her sanity and all she holds dear.
What I Love: I am glad I picked this in a whim because I have no idea of the Poet's Corner. I love how the suspense builds and how the story cascades. I love the poetries included and the diversity of poets this book have showed.
Finally, the twist gave me goosies!
What I Don't Love Much: Nothing!
Wise Words: 
"Everyone's got something. Some people are just better actors than others."
"Mistakes. Trial and error. Same thing. Mistakes are how we learned to walk and run and that hot things burn when you touch them. You've made mistakes all your life and you're going to keep making them."
–
27 – A book recommended by a family member – You Can You Will: 8 Undeniable Qualities of a Winner by Joel Osteen
Rating: 
 (GREAT READ!)
What is it about: In 8 UNDENIABLE QUALITIES OF A WINNER, Joel Osteen focuses on the irrefutable traits and attributes of highly successful people. These personal qualities are tested through the ages and all types of circumstances. These practical principles guide the lives of champions.
What I Love: The wise words that touched my soul.
What I Don't Love Much: Nothing!
Wise Words: 
"You don't need their approval when you have God's approval."
"You need to be around people who know more than you and have more talent than you. Don't be intimidated by them; be inspired."
"You weren't created to simply exist, to endure, or to go through the motions; you were created to be really alive."
—
©2016 Rosemawrites@A Reading Writer. All Rights Reserved.
Photo Credit: Manrepeller, Shamilar, Goodreads
Story Summary: Goodreads
---
What are you favorite reads this month?
Have you read any of this?
Do you agree with me?
Let's talk!