Surprise surprise! I actually read six (06) books last month?! 😀
Here are the two additional books that I've read on the night of January 31st. (Yes, I am not kidding! :D)
5th – A book from the (my) library – Big Little Lies by Liane Moriarty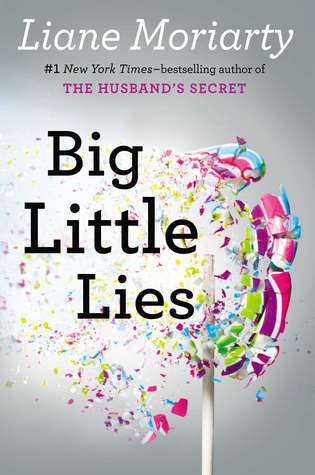 What is it about: Big Little Lies follows three women, each at a crossroads:
Madeline is a force to be reckoned with. She's funny and biting, passionate, she remembers everything and forgives no one. Her ex-husband and his yogi new wife have moved into her beloved beachside community, and their daughter is in the same kindergarten class as Madeline's youngest (how is this possible?). And to top it all off, Madeline's teenage daughter seems to be choosing Madeline's ex-husband over her. (How. Is. This. Possible?).
Celeste is the kind of beautiful woman who makes the world stop and stare. While she may seem a bit flustered at times, who wouldn't be, with those rambunctious twin boys? Now that the boys are starting school, Celeste and her husband look set to become the king and queen of the school parent body. But royalty often comes at a price, and Celeste is grappling with how much more she is willing to pay.
New to town, single mom Jane is so young that another mother mistakes her for the nanny. Jane is sad beyond her years and harbors secret doubts about her son. But why? While Madeline and Celeste soon take Jane under their wing, none of them realizes how the arrival of Jane and her inscrutable little boy will affect them all.
What I Love: The way the story was told. From shifting perspectives with additional snippets of more perspectives after each chapter. It kept me glued thinking, wait… so what happened? Who did this? Who will…?
The diversity of life mess each women are in also gave the story a unique texture that make it more unforgettable.
Lastly, it gave me the 'Oh!' moment. I loved it when an author was able to surprise me, and Moriarty surely did!
What I Don't Love Much: I cannot name what I don't love about this book. Maybe, it's just that my first try of Liane Moriarty, which is The Husband's Secret, is better.
Wise Words: 
"Parents do tend to judge each other. I don' know why. Maybe because none of us really know what we're doing?"
"I mean a fat, ugly man can still be funny and lovable and successful… But it's like it's the most shameful thing for a woman to be."
"How every relationship had its own 'love account'. Doing something kind for your partner was like a deposit. A negative comment was a withdrawal."
Rating: 
 (Good read, definitely!)
–
 6th – A book with a protagonist that has who your occupation – The Small Backs of Children by Lidia Yuknavitch
What is it about: With the flash of a camera, one girl's life is shattered, and a host of others altered forever. . .
In a war-torn village in Eastern Europe, an American photographer captures a heart-stopping image: a young girl flying toward the lens, fleeing a fiery explosion that has engulfed her home and family. The image wins acclaim and prizes, becoming an icon for millions—and a subject of obsession for one writer, the photographer's best friend, who has suffered a devastating tragedy of her own.
As the writer plunges into a suicidal depression, her filmmaker husband enlists several friends, including a fearless bisexual poet and an ingenuous performance artist, to save her by rescuing the unknown girl and bringing her to the United States. And yet, as their plot unfolds, everything we know about the story comes into question: What does the writer really want? Who is controlling the action? And what will happen when these two worlds—east and west, real and virtual—collide?
What I Love: The brutal honesty, the cringe-inducing words that vivid descriptions of abuse, sex and even art.
It took me less than an hour to finish this book, maybe because it was short, but definitely because of the way it was written.
The language is intense, the description will hit you hard. Like what I said, brutally honest.
What I Don't Love Much: The last few chapters were a bit off for me. It's as if a train derailed, or a car which has lost its GPS connection. It's just… off, for me.
Wise Words:  
"Someone has to die in order that the rest of us should value life more."
"We are who we imagine we are. Every self is a novel in progress. Every novel a lie that hides the self."
"Photographs replace memory. Photographs replace lived experience. History."
"Do we secretly long for death to remind us we are alive?"
"There are so many kinds of love, but never a love, or a life, withour pain."
Rating: 
 (Good read!)
—
©2016 Rosemawrites@A Reading Writer. All Rights Reserved.
Photo credit: Pop Sugar and Goodreads
Story Summary: Goodreads