"The past is never where you think you left it." ― Katherine Anne Porter
The Broke and the Bookish's Top Ten Tuesday today is a bit hard to fill out!
February 2: Top Ten Historical Settings You Love/ Ten Historical Settings You'd Love To See or Top Futuristic Books You Love/Ten Futuristic Societies I'd Love To Read in Books
With my love-hate relationship with classic books, I can only share less than ten (or even less than five) but I will still list them! 😉
So let's start, here are the Books with Historical Settings that I Loved!
The Kite Runner by Khaled Hosseini
Amir is the son of a wealthy Kabul merchant, a member of the ruling caste of Pashtuns. Hassan, his servant and constant companion, is a Hazara, a despised and impoverished caste. Their uncommon bond is torn by Amir's choice to abandon his friend amidst the increasing ethnic, religious, and political tensions of the dying years of the Afghan monarchy, wrenching them far apart. But so strong is the bond between the two boys that Amir journeys back to a distant world, to try to right past wrongs against the only true friend he ever had.
–
The Magic Strings of Frankie Presto by Mitch Albom
Frankie, born in a burning church, abandoned as an infant, and raised by a music teacher in a small Spanish town, until war rips his life apart. At nine years old, he is sent to America in the bottom of a boat. His only possession is an old guitar and six precious strings. His amazing journey weaves him through the musical landscape of the 1940s, '50s and '60s, with his stunning playing and singing talent affecting numerous stars (Duke Ellington, Hank Williams, Elvis Presley) until, as if predestined, he becomes a pop star himself.
He makes records. He is adored. But Frankie Presto's gift is also his burden, as he realizes the power of the strings his teacher gave him, and how, through his music, he can actually affect people's lives. At the height of his popularity, tortured by his biggest mistake, he vanishes. His legend grows. Only decades later, having finally healed his heart, does Frankie reappearjust before his spectacular death—to change one last life. With the Spirit of Music as our guide, we glimpse into the lives that were changed by one man whose strings could touch the music—and the magic—in each of us.
–
All the Light We Cannot See by Anthony Doerr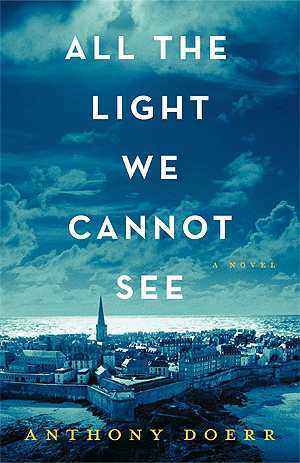 Marie-Laure lives with her father in Paris near the Museum of Natural History, where he works as the master of its thousands of locks. When she is six, Marie-Laure goes blind and her father builds a perfect miniature of their neighborhood so she can memorize it by touch and navigate her way home. When she is twelve, the Nazis occupy Paris and father and daughter flee to the walled citadel of Saint-Malo, where Marie-Laure's reclusive great-uncle lives in a tall house by the sea. With them they carry what might be the museum's most valuable and dangerous jewel.
In a mining town in Germany, the orphan Werner grows up with his younger sister, enchanted by a crude radio they find. Werner becomes an expert at building and fixing these crucial new instruments, a talent that wins him a place at a brutal academy for Hitler Youth, then a special assignment to track the resistance. More and more aware of the human cost of his intelligence, Werner travels through the heart of the war and, finally, into Saint-Malo, where his story and Marie-Laure's converge.
–
The Color Purple by Alice Walker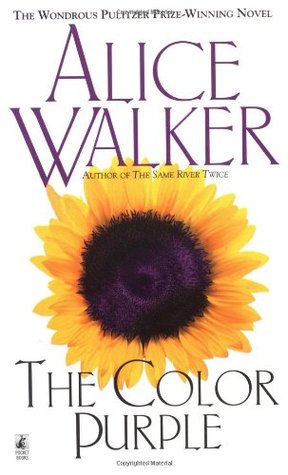 Taking place mostly in rural Georgia, the story focuses on the life of women of color in the southern United States in the 1930s, addressing numerous issues including their exceedingly low position in American social culture. The novel has been the frequent target of censors and appears on the American Library Association list of the 100 Most Frequently Challenged Books of 2000-2009 at number seventeen because of the sometimes explicit content, particularly in terms of violence.
–
The Book Thief by Markus Zusak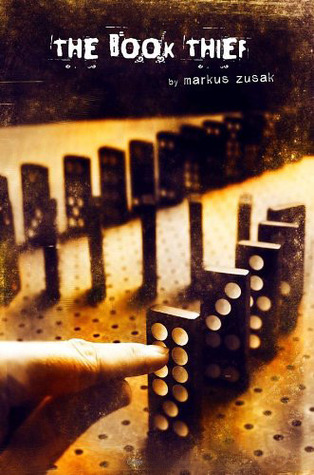 It's just a small story really, about among other things: a girl, some words, an accordionist, some fanatical Germans, a Jewish fist-fighter, and quite a lot of thievery. . . .
Set during World War II in Germany, Markus Zusak's groundbreaking new novel is the story of Liesel Meminger, a foster girl living outside of Munich. Liesel scratches out a meager existence for herself by stealing when she encounters something she can't resist–books. With the help of her accordion-playing foster father, she learns to read and shares her stolen books with her neighbors during bombing raids as well as with the Jewish man hidden in her basement before he is marched to Dachau.
–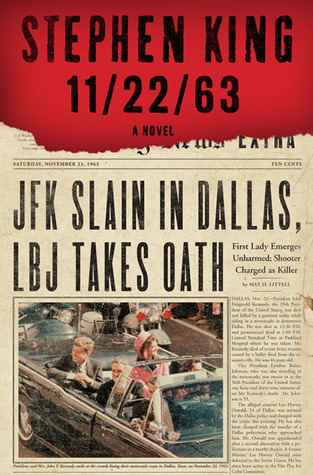 Life can turn on a dime—or stumble into the extraordinary, as it does for Jake Epping, a high school English teacher in Lisbon Falls, Maine. While grading essays by his GED students, Jake reads a gruesome, enthralling piece penned by janitor Harry Dunning: fifty years ago, Harry somehow survived his father's sledgehammer slaughter of his entire family. Jake is blown away…but an even more bizarre secret comes to light when Jake's friend Al, owner of the local diner, enlists Jake to take over the mission that has become his obsession—to prevent the Kennedy assassination. How? By stepping through a portal in the diner's storeroom, and into the era of Ike and Elvis, of big American cars, sock hops, and cigarette smoke… Finding himself in warmhearted Jodie, Texas, Jake begins a new life. But all turns in the road lead to a troubled loner named Lee Harvey Oswald. The course of history is about to be rewritten…and become heart-stoppingly suspenseful.
–
The Great Gatsby by F. Scott Fitzgerald
F. Scott Fitzgerald's third book, stands as the supreme achievement of his career. This exemplary novel of the Jazz Age has been acclaimed by generations of readers. The story of the fabulously wealthy Jay Gatsby and his love for the beautiful Daisy Buchanan, of lavish parties on Long Island at a time when The New York Times noted "gin was the national drink and sex the national obsession," it is an exquisitely crafted tale of America in the 1920s.
–
Manuscript Found in Accra by Paulo Coelho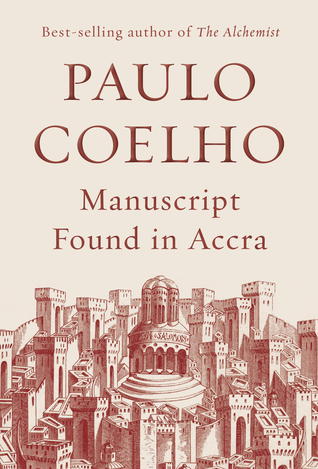 July 14, 1099. Jerusalem awaits the invasion of the crusaders who have surrounded the city's gates. There, inside the ancient city's walls, men and women of every age and every faith have gathered to hear the wise words of a mysterious man known only as the Copt. He has summoned the townspeople to address their fears with truth:
"Tomorrow, harmony will become discord. Joy will be replaced by grief. Peace will give way to war…. None of us can know what tomorrow will hold, because each day has its good and its bad moments. So, when you ask your questions, forget about the troops outside and the fear inside. Our task is not to leave a record of what happened on this date for those who will inherit the Earth; history will take care of that. Therefore, we will speak about our daily lives, about the difficulties we have had to face."
–
Summary and photo credit: Goodreads
---
Have you read some of these books, too?
What are your thoughts?
🙂
❤
~