Four books in one month! Am I slow? 😀
1st – A book with a blue cover – We Are Called to Rise: A Novel by Laura McBride
What is it about: An immigrant boy whose family is struggling to assimilate. A middle-aged housewife coping with an imploding marriage and a troubled son. A social worker at home in the darker corners of Las Vegas. A wounded soldier recovering from an injury he can't remember getting. By the time we realize how these voices will connect, the impossible and perhaps the unbearable has already happened. We Are Called to Rise is a boomtown tale, in which the lives of people from different backgrounds and experiences collide in a stunning coincidence. When presented the opportunity to sink into despair, these characters rise. Through acts of remarkable charity and bravery, they rescue themselves. Emotionally powerful yet tender and intimate, We Are Called to Rise is a novel of redemption and unexpected love. 
What I Love: The last few chapters where the lives were all connected. It was done flawlessly.
The strange set of characters/lives are interesting to read. They have their own stand-alone stories and it is impressive how they lives were interweaved.
What I Don't Love Much: The length, I think, can be dimished. There are some parts that bored me a bit.
Wise Words: 
"We fail even though things matter very much; it's the possibility of failure that makes them matter more."
"What is most beautiful is least acknowledged."
"So little matters so much, and so much matters so little."
Rating: 
 (Good read, definitely!)
–
2nd – A book you can finish in a day – Fangirl by Rainbow Rowell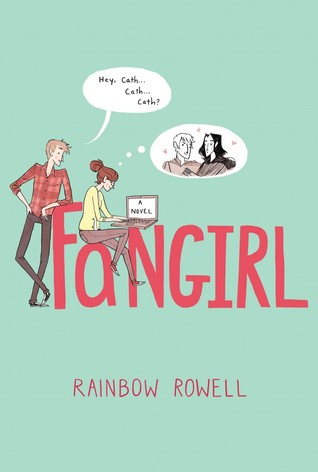 What is it about: Cath is a Simon Snow fan. Okay, the whole world is a Simon Snow fan…
But for Cath, being a fan is her life—and she's really good at it. She and her twin sister, Wren, ensconced themselves in the Simon Snow series when they were just kids; it's what got them through their mother leaving.
Reading. Rereading. Hanging out in Simon Snow forums, writing Simon Snow fan fiction, dressing up like the characters for every movie premiere.
Cath's sister has mostly grown away from fandom, but Cath can't let go. She doesn't want to.
Now that they're going to college, Wren has told Cath she doesn't want to be roommates. Cath is on her own, completely outside of her comfort zone. She's got a surly roommate with a charming, always-around boyfriend, a fiction-writing professor who thinks fan fiction is the end of the civilized world, a handsome classmate who only wants to talk about words… And she can't stop worrying about her dad, who's loving and fragile and has never really been alone.
For Cath, the question is: Can she do this? Can she make it without Wren holding her hand? Is she ready to start living her own life? Writing her own stories? And does she even want to move on if it means leaving Simon Snow behind?
What I Love: Rainbow Rowell's heartwarming storytelling skills is a delight to read. I love the innocence, the softness and the fragility of her characters.
It took me 10pm until maybe 2am to finish this book. Yep. I wasn't able to stop!
What I Don't Love Much: The Simon Snow parts…
Wise Words:
"Words are very powerful.. And the take on more power the more that they're spoken."
"There's nothing more profound than creating something out of nothing." 
Rating: 
 (Good read, definitely!)
–
3rd – A murder mystery  – Career of Evil (Cormoran Strike, #3) by Robert Galbraith (Pseudonym), J.K. Rowling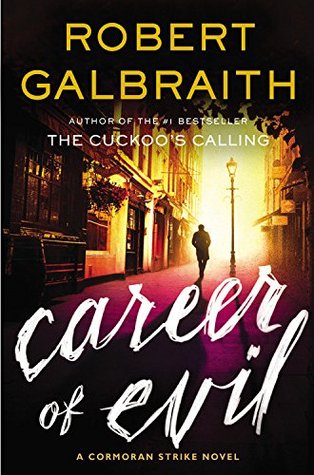 What is it about: When a mysterious package is delivered to Robin Ellacott, she is horrified to discover that it contains a woman's severed leg.
Her boss, private detective Cormoran Strike, is less surprised but no less alarmed. There are four people from his past who he thinks could be responsible – and Strike knows that any one of them is capable of sustained and unspeakable brutality.
With the police focusing on the one suspect Strike is increasingly sure is not the perpetrator, he and Robin take matters into their own hands, and delve into the dark and twisted worlds of the other three men. But as more horrendous acts occur, time is running out for the two of them…
Career of Evil is the third in the series featuring private detective Cormoran Strike and his assistant Robin Ellacott. A mystery and also a story of a man and a woman at a crossroads in their personal and professional lives.
What I Love: It's creepiness at its best! It will leave you haunted 'cause it is insanely gross!
The red herrings are all well-written and I surely never saw what was coming! So greatly written!
What I Don't Love Much: Uhm. Nothing! 😀
Rating: 
 (GREAT read!)
–
4th – A book recommended by someone you just met – Simon vs. the Homo Sapiens Agenda by Becky Albertalli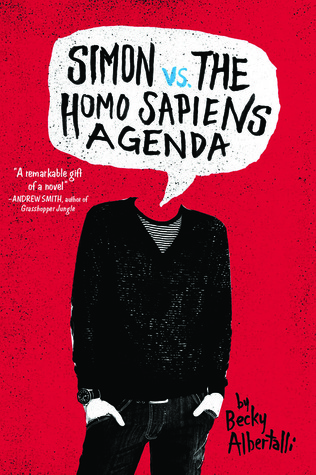 What is it about: Sixteen-year-old and not-so-openly gay Simon Spier prefers to save his drama for the school musical. But when an email falls into the wrong hands, his secret is at risk of being thrust into the spotlight. Now Simon is actually being blackmailed: if he doesn't play wingman for class clown Martin, his sexual identity will become everyone's business. Worse, the privacy of Blue, the pen name of the boy he's been emailing, will be compromised.
With some messy dynamics emerging in his once tight-knit group of friends, and his email correspondence with Blue growing more flirtatious every day, Simon's junior year has suddenly gotten all kinds of complicated. Now, change-averse Simon has to find a way to step out of his comfort zone before he's pushed out—without alienating his friends, compromising himself, or fumbling a shot at happiness with the most confusing, adorable guy he's never met.
What I Love: The lightness, the thrilling anticipation, the KILIG-inducing scenes, the rawness. I love how the story unfolds. I love how the twists lead to the heartwarming ending.
What I Don't Love Much: I expected too much. Maybe I expected more of something that I cannot honestly figure out.
Wise/Witty Words:
"People are shameless when it comes to cake. It's a beautiful piece to see."
"People are really like houses with vast rooms and tiny windows."
Rating: 
 (Good read)
—
©2016 Rosemawrites@A Reading Writer. All Rights Reserved.
Photo credit: Pop Sugar and Goodreads
Story Summary: Goodreads