A refreshing read with a unique premise but the twist is…
Everything, Everything by Nicola Yoon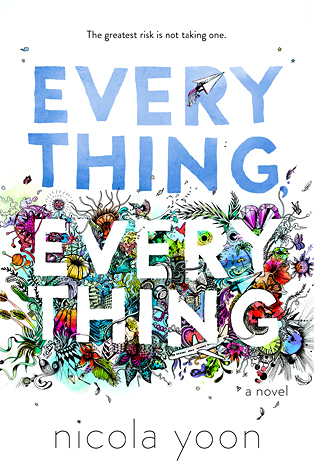 Genre: Young Adult
Published: 2015
Rating: 💖💖💖💖 (MUST-READ)
THE STORY:
Madeleine Whittier has an odd illness that confined her in her own little home. For 18 years, she has never been outside her house filled with filtered air.
She doesn't long to be outside her home until she saw her new neighbor, Olly.
Olly's arrival introduced her to a life she doesn't know she wanted to have.
THE BLURB:
After I have read a lot of good reviews for this book, I am now convinced that it is indeed a good read.
First, the premise is interesting and unique. I have never heard of SCID until I read this novel. So I commend how Nicola Yoon researched for this book.
Second, her characters are relatable. Maddy is just any teenager who first experienced falling inlove, jittery and nervous but definitely in a bliss.
The people the surround Maddy are all relatable, too, Carla and even Olly and his family.
I also love the doodles/illustrations included in between some of the pages which are drawn by Nicola's husband. They made the book more refreshing.
Finally, I like Yoon's simple choice of words. She has selected just the right adjectives in illustrating the characters' emotions, especially Maddy's.
So…  you are now asking why on earth did I gave it only four hearts.
Well… until now, I am not quite sure if I like how Yoon twisted the story. I don't like to tell any spoilers but I kinda felt that there is something wrong.
Also, I almost predicted the ending. And I don't like knowing how a story ends before I reach the final pages.
THE WISE WORDS:
"Everything's a risk. Not doing anything is a risk. It's up to you."
"In my head I know I've been in love before, but it doesn't feel like it. Being in love with you is better than the first time. It feels like the first time and the last time and the only time all at once."
THE WRAP:
I think Yoon ended the story in a way that her readers would be happy.
It was ok but it doesn't end up as strong as I hoped it would be.
~