Start the week with some wise words worth pondering. – rosemawrites
Last week has been so fun as Writing 101 has been really an enjoyable class packed with awesome bloggers/classmates.
Today's Monday Musings is inspired by our Day 9 assignment, particularly by Annie and TLizzy. These two have all the right to live with hatred but they chose the opposite direction. 
So here is my word-to-ponder for this week: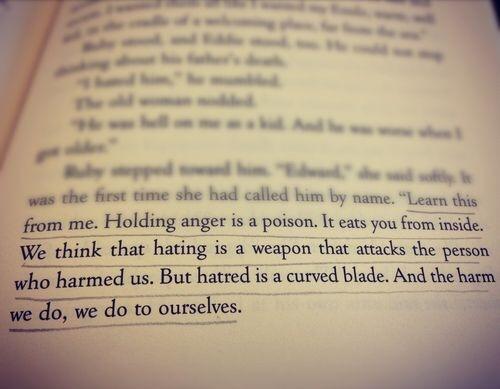 From: The Five People You Meet in Heaven by Mitch Albom
My thoughts:
I am honestly not a forgiver. I keep records of wrongs. I may say I forgive you, but I will surely not forget.
But as I grow, as I experience rejections, as I experience life's harsh realities, I have learned that everything really happens for a reason.
Someone may have wronged you, but that is the best way to make you stronger. 
Someone left you, but after that you discover that you are more capable than you think you are. 
I am not a 'perfect forgiver' yet. But I am working on it.
Because you forgive not because the person deserves forgiveness. You forgive because you deserve to be free. 
---
Is there a person that have wronged you that you still haven't forgiven?
Is there a way to forgive easily?
I would love to hear it from you.
~