Emotionally haunting. Vividly described violence while expressing hope. 
After reading Markus Zusak's I Am the Messenger , I was convinced that he is indeed a not-your-ordinary author.
And as I read The Book Thief, I have proven how 'deep' he really is.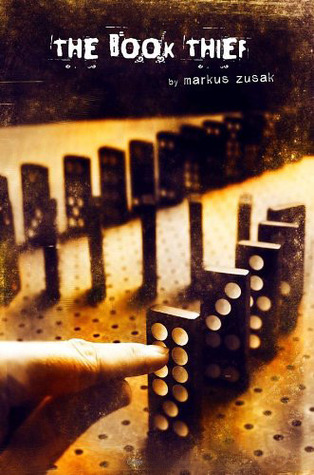 Genre: Historical Fiction
Published: 2005
Rating: 💖💖💖 (You MAY read it.)
THE STORY:
Liesel Meminger, a nine-year old girl, is surrounded with tragedies. She saw her brother died. Her mother left her in Himmel Street with her new parents, Hans and Rosa Hubermann.
Amid the war and the violence during the German Nazi regime, Liesel has become her own kind of criminal. She chose to be a Book Thief.
Little does she know that her love of words will lead her to her life's greatest despair.
THE BLURB:
It took me more than a month to finish this book. This is not because the story is boring. It is in fact because the story's depth requires time to fully understand.
Markus Zusak is indeed a one-of-a-kind author with unique techniques in telling his own story. His chosen storyteller in this novel is creepy yet emotionally touching at the same time.
I can't also help but admire how he used silence to highlight the violence surrounding Liesel.
Though this story is full of sense and contains strong emotions, I still give this book 3 hearts rating because I think it is a bit too long.
Nonetheless, The Book Thief is still a story worth reading.
THE WISE WORDS:
People observe the colors of a day only at its beginnings and ends. 
People have defining moments, I suppose, especially when they're children.
THE WRAP:
A dark story told by a creepy storyteller. A novel not short of depthness, worth and hope.
~