Don't judge the book by its cover. But, can you 'know' the book just by looking at its cover?
I will actually try to do that after the overly sweet Dimple of enthrallingdimple tagged me to do this cool challenge that I really really want to do! Please go check out her blog. She has written a lot of interesting thoughts that book bloggers, like me, should read. 🙂
Why am I excited to do this? It's because I actually, sometimes, judge a book just by looking at its cover. (Yep. I'm guilty.)
So now, let me try my wit and luck in this Book Cover Guessing Challenge. Here's how this challenge works:
Pick a few books, typically well-known, that you know little or nothing about.
Guess what they are about, based on the cover and title.
Compare it with the actual blurb on Goodreads and see how you fare.
I picked five (05) books from Goodreads recommendations for me. 🙂
Let's see how I'll do this. I'm quite nervous actually. (laughs)
—-
Recommendation from my To Read shelf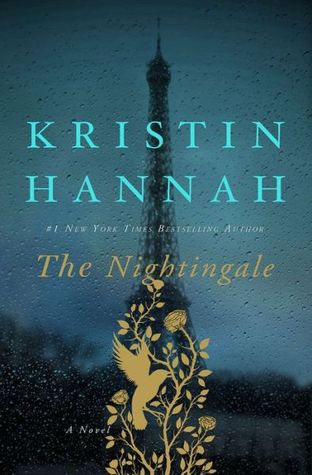 The Nightingale by Kristin Hannah
My guess:
I think this story is about a girl (I think it's a girl because the author is a girl 😀 ) who lives in Paris (because that's Eiffel Tower!). That girl dreams to become a famous singer (because from what I know, a nightingale is a small bird that sings beautifully). The main character faces challenges just to make her dream come true (because there should always be a struggle in every story! 😀 )
Goodreads says:
The Nightingale tells the stories of two sisters, separated by years and experience, by ideals, passion and circumstance, each embarking on her own dangerous path toward survival, love, and freedom in German-occupied, war-torn France–a heartbreakingly beautiful novel that celebrates the resilience of the human spirit and the durability of women.
So…
I am so wrong! (facepalm) At least Paris is in France so I closely got that right! 😀
Recommendation from my Favorites shelf
The Summer Girls by Mary Alice Monroe
My guess:
Basing on the title and the cover, this book is set during summer (that was very obvious!). I also think that this book has female characters who have been friends from a long time. And then, one summer will somehow test their friendship.
Goodreads says:
In this enchanting trilogy set on Sullivan's Island, South Carolina, New York Times bestselling author Mary Alice Monroe captures the complex relationships between Dora, Carson, and Harper, three half-sisters scattered across the country—and a grandmother determined to help them rediscover their family bonds.
So…
There is indeed a summer aspect in this novel but that is the only thing that I got right! (Like, seriously! 😀 ) Those girls we're not friends, they're sisters!
Recommendation from my YA shelf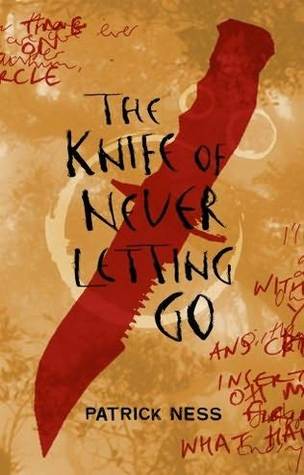 The Knife of Never Letting Go  by Patrick Ness
My guess:
A young man will try to wage revenge against his enemies (because he cannot let go). There will be some brutal scenes and I think the main character is somehow Dauntless-like (remember Divergent?).
Goodreads says:
Prentisstown isn't like other towns. Everyone can hear everyone else's thoughts in an overwhelming, never-ending stream of Noise. Just a month away from the birthday that will make him a man, Todd and his dog, Manchee — whose thoughts Todd can hear too, whether he wants to or not — stumble upon an area of complete silence. They find that in a town where privacy is impossible, something terrible has been hidden — a secret so awful that Todd and Manchee must run for their lives.
So…
I got it right, a bit. The main character is indeed a boy but the premise of this book is far from my guess. (Aww. I think I will not get anything right!)
Recommendation from my Romance shelf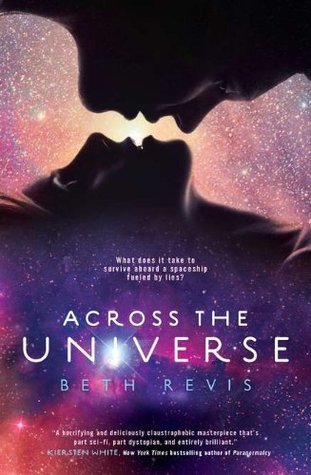 Across the Universe by Beth Revis
My guess:
The two main characters are already a couple when they launched a space exploration across the universe. (I can't say if they are humans or aliens, haha! ) As they travel away from the world, their relationship will be tested. They will also discover truths about their relationship and about themselves as they discover the universe inside a spaceship.
Goodreads says:
Seventeen-year-old Amy joins her parents as frozen cargo aboard the vast spaceship Godspeed and expects to awaken on a new planet, three hundred years in the future. Never could she have known that her frozen slumber would come to an end fifty years too soon and that she would be thrust into the brave new world of a spaceship that lives by its own rules.

Amy quickly realizes that her awakening was no mere computer malfunction. Someone – one of the few thousand inhabitants of the spaceship – tried to kill her. And if Amy doesn't do something soon, her parents will be next.
So…
Okay. Okay. I'm luckless. (facepalm again) I got the spaceship right, though! 😀
Recommendation from my Romance shelf Mystery and Thriller shelf
Shoofly Pie (Bug Man, #1) by  Tim Downs
My guess: Maybe the name of the main character here is Shoofly Pie or Bug Man. 😀 He (I think the main character is a man) tries to uncover a mysterious murder than can either make or break his career. Little did he know that the secret towards solving the crime lies to the small details that he should see, (that's my figurative interpretation of fly. Haha).
Goodreads says:
Forensic entomologist Nick Polchak (a.k.a. the Bug Man) is hired by thirty-year-old Kathryn Guilford, who is terrified of bugs, to solve her friend's death. When Polchak stumbles into the mystery of how Kathryn's husband was killed years earlier, the action kicks into high gear — and Polchak finds himself on the run with his client from someone who will do anything to keep a secret.
So…
Alright! I got the Bug Man right. But that was it. Haha
—-
Thank you again Dimple of enthrallingdimple for tagging me after I somehow asked to be tagged? 😀 I got no correct guess but I totally enjoy this challenge!
I am now sure that I cannot be a fortune teller someday! (final facepalm)
So guys, will you take this challenge?
Please say yes! 🙂
Spread the blog-love!
~