This is my first time to participate to an established book meme and I am really excited to do the Top Ten Tuesday hosted by The Broke and the Bookish.
I know this post was scheduled for August 11, last Tuesday, but I still want to do this this week. (I hope it's okay. :))
So let me present you my Top Ten Authors I've Read The Most Books From according to my Goodreads account!
10. Colleen Hoover , Veronica Roth, Suzanne Collins and Tahereh Mafi (3 books each)
"How odd to be made of flesh, balanced on bone, and filled with a soul you've never met." – Colleen Hoover
BOOKS READ: Never Never, Never Never: Part Two and Ugly Love
"We believe in ordinary acts of bravery, in the courage that drives one person to stand up for another." – Veronica Roth
BOOKS READ: Divergent, Insurgent and Allegiant
"You don't forget the face of the person who was your last hope." – Suzanne Collins
BOOKS READ: The Hunger Games, Catching Fire and Mockingjay 
"All I ever wanted was to reach out and touch another human being not just with my hands but with my heart." – Tahereh Mafi
BOOKS READ: Shatter Me, Unravel Me and Ignite Me 
9. Kiera Cass (4 books)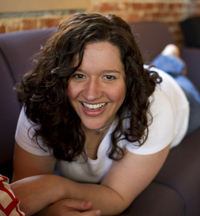 "It's always the fear of looking stupid that stops you from being awesome." – Kiera Cass
BOOKS READ: The Selection, The Elite, The One and The Heir 
8, 7 and 6. Stephenie Meyer, Emily Giffin, and Michael Crichton (5 books each)
"I like the night. Without the dark, we'd never see the stars." – Stephenie Meyer
BOOKS READ: Twilight, New Moon, Eclipse, Breaking Dawn and The Host 
"Love, not as a surge of passion, but as a choice to commit to something, someone, no matter what obstacles or temptations stand in the way. And maybe making that choice, again and again, day in and day out, year after year, says more about love than never having a choice to make at all."  – Emily Giffin
BOOKS READ: Heart of the Matter, Something Borrowed, Something Blue, Baby Proof and Love the One You're With
"If you don't know history, then you don't know anything. You are a leaf that doesn't know it is part of a tree. " – Michael Crichton
BOOKS READ: Congo, Next, Disclosure, State of Fear, and Rising Sun
5. Mitch Albom (6 books)
"The truth is, once you learn how to die, you learn how to live." – Mitch Albom
BOOKS READ: For One More Day, The First Phone Call from Heaven, Have a Little Faith: a True Story, Tuesdays with Morrie, The Time Keeper and The Five People You Meet in Heaven
4. and 3. Lis Wiehl and James Patterson
"The absence of evidence is not evidence of absence." – Lis Wiehl
BOOKS READ: Face of Betrayal, Hand of Fate, Heart of Ice, A Matter of Trust, A Deadly Business, Waking Hours and Darkness Rising 
"You can't tell which way the train went by looking at the tracks." – James Patterson
BOOKS READ: Mistress, 12th of Never, The Christmas Wedding, Cross My Heart, First Love, Private L.A. and 1st to Die
2. Paulo Coelho (10 books)
"It's the possibility of having a dream come true that makes life interesting." – Paulo Coelho
BOOKS READ: The Alchemist, Brida, Aleph, Eleven Minutes, The Devil and Miss Prym, The Winner Stands Alone, Manuscript Found in Accra, The Zahir, Veronika Decides to Die and Adultery
I think you already guessed this… 🙂
1. Nicholas Sparks (18 books)
"Nothing that's worthwhile is ever easy. Remember that." – Nicholas Sparks
BOOKS READ: The Last Song, Three Weeks With My Brother, The Best of Me, The Longest Ride, Dear John, The Choice, Message in a Bottle, The Notebook (The Notebook, #1), The Wedding (The Notebook, #2), The Guardian, True Believer (Jeremy Marsh & Lexie Darnell, #1), At First Sight (Jeremy Marsh & Lexie Darnell, #2), The Rescue, The Lucky One, Nights in Rodanthe, A Walk to Remember, Safe Haven, and A Bend in the Road.
That's it! 🙂
Do we share the same love for these authors? Please let me know.
~