As promised, here are the great Nicholas Sparks novels that will complete my Top 10 list!
Just like my last post, I included in here the main story of the novels, the reason why they are special to me, the awesome trivia based on Nicholas Spark's website and Goodreads and the heartfelt quotes from each stories.
Read on and see if your bets have made it! 😀
Here they are:
What is it about?
This is the story of endings and beginnings, tragedies and joys and doubts and love between Jeremy Marsh & Lexie Darnell and the family that they try build.
What makes it special?
Like The Wedding, I also read At First Sight first before I was able to read its prequel, True Believer. So I have no background knowledge of Jeremy and Lexie's beginning as a couple.
On the other hand, this story can stand on its own and it is special to me because of its ending that really made me cry. This book is the 3rd Sparks' novel that really made me cry. Really.
Did You Know?
Lexie is named after Nicholas Sparks' youngest child.
Though At First Sight is not based specifically on someone close to Sparks, Lexie's character and her pregnancy are modeled after Spark's wife Cathy and Jeremy somehow resembles Sparks' brother, Michael Earl and to him as well.
A real Cedar Grove Cemetery in New Bern, North Carolina was used as the model of the cemetery in the two Lexie and Jeremy novels.
The idea of At First Sight came on a cloudy afternoon in late January, when Sparks editor had suggested a revision of True Believer's ending.
Have you read?
What is it about?
Do I have to tell what this is about? 😀 This is the most-loved story written by Nicholas Sparks. With Noah and Allie Calhoun's story of enduring love, Sparks has captured a lot of readers.
What makes it special?
As I have said, I have read a looot of Sparks book already before I got to read Noah and Allie's story. But that doesn't make The Notebook any less special.
This novel is indeed one of the best debut novel ever written.
Did You Know?
Noah and Allie Calhoun's story is inspired by Sparks' wife's grandparents who have been married and remained together for 60 years.
Although some parts of Noah and Allie's story happened to Cathy's grandparents, some parts don't. Thus, Sparks clearly say that The Notebook is not a memoir.
This is Nicholas Sparks' first ever published novel.
This book gave Nicholas his life's first 1 million after he signed with his editor, Theresa Park.
The Notebook was written after The Passing and The Royal Murders, which were not published.
Have you read?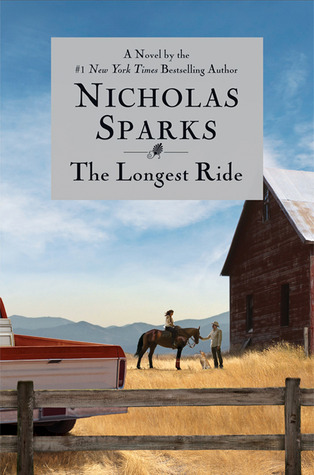 What is it about?
This is about the two  couples, Ira and Ruth and Luke and Sophia, set with different circumstances and set in different time yet will unexpectedly converge through twists of fate.
What makes it special?
The Longest Ride is the first ever Nicholas Sparks book that had me crying even in the first few chapters. Ira's letters to Ruth are just so heartfelt and they're sad but definitely sweet.
Did You Know?
The inspiration of The Longest Ride is the Black Mountain College, a liberal arts school in North Carolina.
Black Mountain College served as the honeymoon destination of the old couple, Ira and Ruth. It is where Ira bought six paintings for Ruth, who is an art enthusiast.
Sparks created the story of a new couple, Luke and Sophia, to balance Ira and Ruth's enduring love.
While Luke is a professional bull rider, Sparks has never been to a Professional Bull Riding event.
A film adaptation for The Longest Ride has been released just last April 10 starring Britt Robertson, Scott Eastwood, Jack Huston, Oona Chaplin, and Alan Alda.
Have you read?
What is it about?
This is a short yet strongly emotional love story of Paul Flanner, a divorced father and surgeon and Adrienne, a 45-year old divorced mother, in a community of North Carolina called Rodanthe.
What makes it special?
Because the characters are at their mid-old ages already, I quite didn't expect that this book will really affect me. I consider Paul and Adrienne's story special because this is the second Sparks book that made me cry, a lot actually.
I cannot forget how I finished this book in just one night and at 3 in the morning I was silently crying and I really can't stop the tears because of Paul and Adrienne. 😦
Did You Know?
Paul and Adrienne's names came from Spark's in-laws. His in-laws have requested a book with their names as a Christmas gift from their son-in-law.
Paul's last name, Flanner, was the name of Sparks' dorm in college while Adrienne's last name, Willis, came from someone Sparks know.
The names of Paul and Adrienne's children are from Sparks' cousins.
Rodanthe is described accurately in the novel. There is no inn on Rodanthe's seaside, though.
Some parts of Paul and Adrienne's story really happened to Nicholas and his wife Cathy. First, they both met on Spring break and they both went to a small town to take some break.
Like Paul and Adrienne, Nicholas and Cathy were both Catholic and middle children with an older brother and a younger sister. Both of their parents are celebrated their anniversaries on August 31.
Like Paul and Adrienne, Nicholas and Cathy were also together for only five days. The couples also write letters and call each other when they were apart.
Some of the letters quoted in the book are really from Nicholas' letters sent to Cathy.
Have you read?
What is it about?
A story of finding love after grief, Message in a Bottle is a novel about Theresa Osborne, a divorced mother and a columnist who found a bottle in the beach containing a love letter from Garrett Blake to his deceased wife, Catherine.
What makes it special?
Message in a Bottle is the first Sparks novel that made me cry. The ending, especially Theresa and Garrett's father's conversation is just so hard to read.
This novel is also special for me because like Theresa, I am also a writer. Also, I loved Garrett's character. His letters are just so endearing and touching to read. And actually, words are my language of love, so I have actually prayed for a real life Garrett. ❤
Did You Know?
The novel was inspired by Spark's father, Patrick Michael Sparks.
Like Garrett, Patrick was devastated when his wife Jill Emma Marie Sparks died of cerebral hemorrhage after a fatal fall out of the horse saddle. Patrick mourned for his wife for four years and cut all interactions with the world even with his children.
After seven years, Patrick like Garrett was able to found love again. Their endings are the same as well… (I won't say it!)
Theresa Osborne was named after Spark's agent, Theresa Park.
The novel was sold to Warner Brothers when it was only half complete.
The first draft of the screenplay was finished on the same day the novel was finished.
Have you read?
BONUS: Three Weeks With My Brother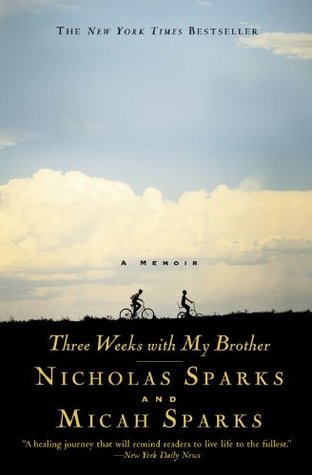 What is it about?
In this novel, Nicholas and his brother Michael 'Micah' Sparks told their memorable trip together as well as their shared family and brotherhood tales.
What makes it special?
I included this book in this list as a bonus because I think most of Sparks fans have not read this book yet. So I am here to say that this is a great read!
There are chapters that is really amusing, especially during Micah and Nicholas's childhood and there are chapters that can make you cry, like when their mom suddenly died and then their only sister died and when their dad died as well. Nicholas' way of narrating his and his brother's feeling towards those deaths are just so heartbreaking.
Did You Know?
The brothers' trip around the world was part of a Notre Dame alumni package.
Nicholas and Micah's favorite part of their three-week trip is the Machu Pichhu in Peru. Sparks said "The site was overwhelming."
The least place that they would want to be back again is India, for Micha and Norway, for Nicholas as they were not able to see the famous northern lights.
During the trip, Nicholas got sick for eight hours after eating in Cambodia.
Nicholas and Micah Sparks wrote the book together from separate coasts by talking on the phone and faxing drafts back and forth.
Have you read?
That's it!
Do we share the same thoughts? Please let me know on the comment box. 😉
~