After I shared with you the great news about Nicholas Sparks' new novel, See Me, I have received some equally thrilled comments! (I'm just glad that a loooot of readers love Sparks.) So now, I am sharing with you my most loved stories from my my ultimate favorite author. Because all these books are great and I have commended Sparks writing for a looot of times already, I will just share the book's main story and it's 'sentimental' value for me along with  some awesome trivia about the book and of course, the best quotes from each story.
What is it about? This is a sad yet cute story about Jamie Sullivan, a quiet girl who always carried a Bible with her schoolbooks and the only daughter of the town's Baptist minister and Landon Carter, a rich boy who considers Jamie as the last person in town he thought he'd fall for. What makes it special? This book has a sentimental value for me as it is the first Nicholas Sparks book that I have read, back in May 2012. Did You Know?
The title A Walk to Remember was taken from one of the tail end pages of the novel: "In every way, a walk to remember."
The novel was inspired by Danielle Sparks Lewis, Nicholas's sister who died of cancer in June 2000. Danielle, like Jamie was never popular at school, always wore an ugly sweater and  always carried the Bible around with her everywhere she went.
Just like Landon, Danielle's husband also proposed to her despite her sickness.
Jamie was named after Nicholas's editor, Jamie Raab.
Landon is the name of Nicholas' third son.
Nicholas Sparks recorded his own reading for the audio version of the novel.
Have you read?
What is it about? This is about the life and love struggles of Denise Holton, a young mom to a four-year-old son named Kyle, a boy with severe learning disabilities and for whom she has sacrificed everything, and Taylor McAden, a volunteer firemen who has 'rescued' women but left them once they need no rescue any more. What makes it special? This is the first Nicholas Sparks book that my dearest have bought for me. ❤ I also shared this book to my friend who's also a single mom like Denise and I'm glad that it gave her hope for finding love again. Did You Know?
Denise's son Kyle is inspired by Nicholas' own son Ryan. Like Kyle, Ryan was diagnosed with a severe learning disability when he was still a toddler.
Like Denise, Nicholas really have a chair where he strapped Ryan during their learning sessions.
In the process of writing this novel, Nicholas struggled with severe writer's block.
The Rescue was the first novel by Nicholas Sparks to debut at # 1 on the New York Times bestseller List
The main character, Denise, was named after the producer of the film versions of Message in a Bottle and A Walk to Remember.
Have you read?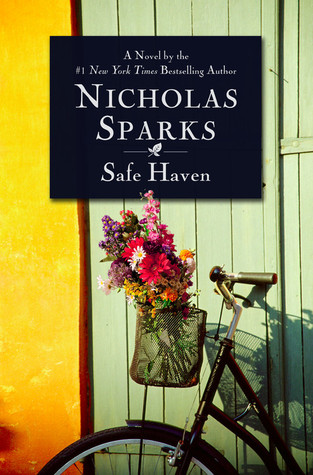 What is it about? This is a romantic thriller about how Katie, a mysterious young woman with a dark past,  put her guards down and let herself try to find her safe haven with Alex, a widowed store owner with a kind heart and two young children. What makes it special? It was 2012 when I first read a Sparks novel but it was Safe Haven who made me a certified Sparks fan. After I have read Katie and Alex story, I have fallen in love with Sparks storytelling skills. From then on, I started my goal of reading all his books. Did You Know?
Nicholas Sparks' main idea in Safe Haven is to surprise his readers. He achieved it through injecting 'danger' into the main plot of the story as it is not usual for him to have such content on his novels.
Safe Haven was made into a movie in 2013 starring Julianne Hough and Josh Duhamel.
Have you read?
What is it about? This is a story of choice between Travis Parker a man with a good job, loyal friends, even a waterfront home in small-town North Carolina and his red-head new neighbor with a long time boyfriend, Gabby Holland. What makes it special? This is the first Sparks novel that I have read that the story has spanned through time. The last chapters showed the bitter and sweet reality of life after finding love and choosing who you want to spend your life with. It was melancholic yet endearing at the same time. Did You Know?
The Choice is written in 'parallel' of Sparks' biggest hit, The Notebook. He tried to capture the 'magic' of The Notebook through the parallel, not the same, obstacles that kept Travis and Gabby apart.
This novel's movie version will be released on February 06 next year starring Benjamin Walker and Teresa Palmer.
Have you read?
What is it about? This is the story of how Wilson Lewis win back the love of his wife of thirty years, Jane, daughter Allie and Noah Calhoun (of The Notebook). What makes it special? I don't know why but I haven't read The Notebook yet when I read The Wedding. Thus, I have no comparison yet between Wilson and Jane's story and Allie and Noah's. On the other hand, this story is the most 'kilig' (sweetest) Sparks novel ever for me. It is just so delightful to know that  love can be revived even after decades of marriage. Did You Know?
The Wedding is Sparks' way of letting his readers and himself revisit his most loved pair, Noah and Allie of The Notebook.
Sparks' focus in The Wedding is love and renewal. Unlike other authors who have written about couples who drifted apart because of adultery, Sparks refused including such in his novel.
It was 2000 when Sparks have started writing a love and renewal novel and after 175 pages, he ditched it and write A Bend in the Road. He was able to finish The Wedding on 2002.
The Wedding was inspired by a few unnamed couples that Sparks knows well.
Have you read?
That's it for the first half of my version of Sparks' top 10 novels! What are you bets for the top 5 spots? I'd like to know, so please write some comments! 😀 Disclaimer: I don't own any photos and the book trivia are from Nicholas Spark's website and Goodreads. 😀 ~