A creepy yet moving tearjerker.
As I said in my recent 2015 Reading Challenge update, The Lovely Bones by Alice Sebold  deserves a full-length review, which I haven't done for quite some time now.
So let me tell you why for the first time in months, I have decided to find some time to write a review for this novel.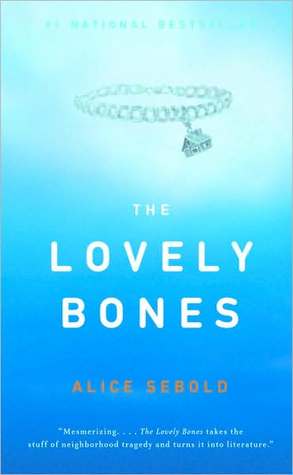 Genre: Adult Fiction, Supernatural Thriller
Published: 2002
Rating:
 (MUST MUST! READ)
THE STORY:
Susie Salmon, a teenager, was raped and murdered one December afternoon on her way home from school. From her point of view from heaven, Susie described how the murderer lured her into an underground hiding place where she was gruesomely killed.
For years, her murdered body was left undiscovered, but Susie in heaven continuously watched how her family was left clueless and destroyed by her untimely disappearance and unknown tragic death.
Susie Salmon saw her grieving family drift apart from each other as her killer was left unpunished. How will their lovely bones find peace and closure?
THE BLURB:
Emotional. Unique. Compelling. Moving.
I think there are no words that can explain how this book has affected me. My heart is still aching as I write that short story summary. That's how Alice Sebold has written such a special book.
As an avid crime novels fan, a gruesome death is nothing new to me. I have read far worst murders compared to Susie Salmon's case. But The Lovely Bones is the first ever mystery novel that I read that was told in the victim's perspective. And that made this story unique and emotionally moving.
The first pages vividly described the crime and well as Susie's life and the people that surrounded her when she was still alive. Sebold's way of introducing the characters though Susie's perspective is simple yet cohesive. Thus, you will be lost in the story.
Susie's story is also relatable. This makes her murder and her journey more compelling to read. Though there are scenes that I don't think is necessary, I still think that Sebold deserves praises.
Piece by piece, the novel's 'bones' have gradually fall back to its places and created a story that will leave the readers a book hangover.
THE WISE WORDS:
THE WRAP:
The book started with a tragedy, but it ended with peace.  Sebold ingeniously showed how time can put back the destroyed bones of one's life.
~