Here's the part that I am quite ashamed of. As a reader and a writer, I usually finish a book that I started. Though I have abandoned a book once, because it really isn't worth my time, there is a book that I have started but never got to finish it until now.
So after I planned my 2015 Reading Challenge, I put the book in its perfect category, A BOOK YOU STARTED BUT NEVER FINISHED.
And it is, 11/22/63 by Stephen King.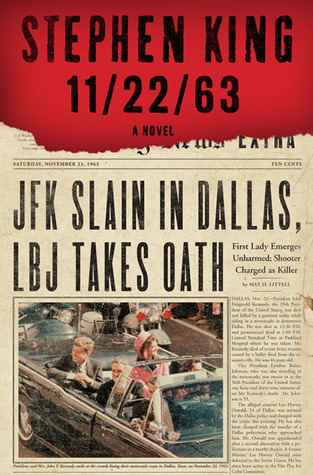 BOOK THOUGHTS: 
My Rating:
As a well known supernatural fiction and contemporary horror writer, Stephen King deserves the raves for his novels. On the other hand, there is a reason why it took me a while, four months to be specific, before I finally finished his work.
The Story: 
Jake Epping, an English teacher, came into a horrible essay written by the school janitor and night-shift student Harry Dunning. In his essay, Harry vividly narrated how his own father murdered the rest of his family through a sledgehammer.
In the story's twist, Jake's friend Al revealed a secret tunnel that serves as a time machine which can brought back Jake to 1958. As the dying Al gave Jake his ultimate mission, to prevent Lee Harvey Oswald in assassinating Pres. J.F. Kennedy's, Jake transported to the past and tried to 'correct' and 'prevent' mistakes like Harry Dunning's gruesome family massacre.
The Blurb:
Though-provoking. Well-researched. This is how I would like to describe 11/22/63.
As a young reader, I think I have no right to criticize Stephen King's novel as he is Stephen King. But as a reader, it took me four months to finish this book as there are some parts that seemed boring to me.
Maybe because of the detailed journey of Jake as he waited for the epic 11/22/63. On the other hand, after I reached the book's second half, the events become more interesting and suspenseful.
King was also able to inject some romance element in this quite-long story which made this novel more interesting. Some lines are just so heartwarming.
I also admire how King emphasized the 'butterfly effect' idea which, for me, is the highlight of this book.
The Wise Words:
The Wrap:
The end fits the story perfectly. Jake learned that you should never ever mess up with what's already done.
His last moment with his love, Sadie, is also a tearjerker!
~