I orginally planned for a two-part super book update until I realized that I reached a milestone in my reading life, thus, here's the third and last part of this super update!
To be able to reach the 100th book read is considerably a milestone for someone like me who do not have the leisure to read a lot of books physically, yes, I read almost all books through e-books. In as much as I want to read 'true' books, my current income does not allow me to do some splurge with books, so for now I read the digital editions.
Drama aside, here my 100th book which, coincidentally, is my first read for 2015! Talk about hitting two milestones with a single novel. Though it was not my intention, Leaving Time by  Jodi Picoult became my super significant book read.
I know Jodi Picoult for quite some time already but I was not able to get my hands on her novel until Leaving Time. As her newest novel, I was quite curious on what the novel is about and after finishing the book, I have come to realize why Picoult is one of the most well known scribblers.
Jenna Metcalf's story is melancholic yet humorous and exciting with the psychic Serenity and detective Virgil. As Picoult includes amusing and amazing facts about elephants, the novel became informative and the same time. The ending.. just caught me off-guard. Picoult's a genius, indeed.
Just because you screwed up once doesn't mean you'll screw up again.

Just because you leave someone doesn't mean you ever let them go.
After the emotional novel, I read The Husband's Secret by Liane Moriarty. This book has been in my TBR list since time immemorial yet I had doubts if its worth reading as I expect another infidelity story, which I hate really. Blame the title! Cause I am wrong. Moriarty blown my mind away as the story's plots unraveled after Cecilia read a letter from her husband. Moriarty's exceptional storytelling is shown as she wrote the connections between three separate individuals that have their lives away from each other. The ending is realistic as well!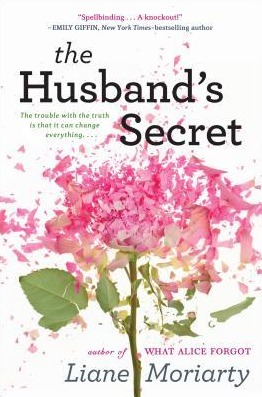 Falling in love was easy.anyone could fall. It was holding on that was tricky.
The last but definitely not the least is William Landay's Defending Jacob. Though the book cover isn't really interesting, the words behind it refuted any doubts that I have when I started reading it. This is not your ordinary whodunit story as the storyteller, Andy Barber, is a prosecutor and father of Jacob, the main suspect of a gross murder.
I have read a lot of detective novels but with the fatherly element of Defending Jacob, I was given another perspective inside a crime. Landay's plot twists as the story was told from the present to the past kept me engrossed and curious. Finally, when the explosive ending came, I was left awed. Landay's a genius. Really!
The interior of a teenager's mind is an endless war between Stupid and Clever.
So that's it! I hope I can read more soon! 😀
~