I haven't posted any book update since last year. It's a shame so now I am having a super book update! Here are the awesome books that I added to my READ list.
First is The Rosie Project (Don Tillman #1) by Graeme Simsion. – This is a short feel-good funny novel about Don Tillman, a genetics enthusiasts who we're able to find love in unexpected way. The humor and the scientific element of the book is just so engrossing and entertaining at the same time.
When you realize you want to spend the rest of your life with somebody, you want the rest of your life to start as soon as possible.
Next is a YA novel that I have been hearing a lot of positive raves and I think Rainbow Rowell's Eleanor & Park truly deserves those! Eleanor, the read-head so-out-of-fashion lass, and Park brought me back to my younger years as they told the story of their young love. It's funny yet so conservatively romantic. And the ending is just so puzzling! Follow-up puhlease!
Nothing before you counts. And I can't even imagine an after. – Park to Eleanor (Isn't it cheesy!)
From humorous yet romantic love stories comes Me Before You by Jojo Moyes which brings me back to reality that love stories are not really about happy endings. Traynor, a quadriplegic who sees all the negative in his world, and the ever-persistent Lou accidentally fell in love in not so ordinary circumstances. The ending is tragic and haunting yet realistic. I'm left speechless.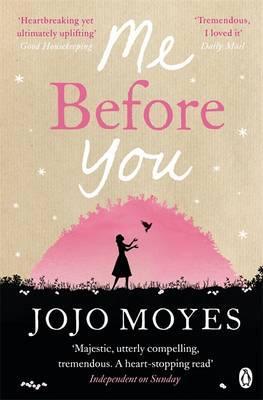 Some mistakes just have greater consequences than others.
Will post next batch of books today!
~